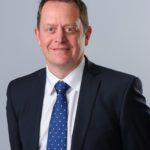 Mark Stuckey has been in banking since 1988 and has worked within Barclays for more than 30 years. He is ACIB qualified. Over the last 15 years, Mark has led various business areas and regions within Barclays, including the Real Estate industry team focusing on smaller property businesses through to large corporates.
He more recently headed the South Coast Surrey and Sussex Mid Corporate business, where his team of Relationship Directors managed client relationships across Dorset, Hampshire, Surrey, West and East Sussex. Mark now leads the South Region for Barclays Mid Corporate business, encompassing South West, the South Coast of England, Oxford, Thames Valley and South Wales. Focused on mid corporate sized businesses, the team look after clients with a turnover between £6.5m and £50m and a full range of industry segments; healthcare, professional firms, retail and wholesale, hospitality and leisure, manufacturing, transport and logistics, business services, education and non-for-profit.
Mark is married with three children and enjoys all forms of sport, especially football, cycling and has more recently taken up golf again. He has joined the Business in the Community (BITC) South East Leadership Board because he has a particular interest in helping with regards to place creation.