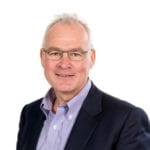 Peter Emery spent twenty years with Esso and ExxonMobil specialising in strategic planning and operational management, and his final appointment was Operations Manager at Fawley Refinery. In 2004 Peter joined the Board of Drax Power Limited as Production Director and was a member of the executive team. Peter played a leading role in converting Drax into a major renewable generator and was Chairman of Capture Power, the joint venture vehicle responsible for the development of the White Rose Carbon Capture and Storage Project.
In 2016 Peter was appointed as Chief Executive Officer of Electricity North West Limited, a regulated business which is responsible for the electricity distribution network covering Greater Manchester, Lancashire and Cumbria. The focus of Peter's work is to improve customer service and the operational performance of the business whilst reducing the cost to serve. He is also leading the change to a Distribution System Operator (DSO) enabling the transition to a low carbon economy in the North West and is a member of the Greater Manchester Green City Region Partnership and the Greater Manchester Strategic Infrastructure Board which are helping the City region secure carbon neutrality by 2038.
In September 2012, Peter was appointed as a Non-Executive Director of N G Bailey and in 2014 Peter was appointed to the Board of The York, North Yorkshire and East Riding Local Enterprise Partnership (LEP) where Peter is currently the Vice Chair. Peter is a Fellow of the Institute of Materials, Minerals and Mining.
Peter is married with three grown up sons and enjoys photography, travelling and keeping fit.