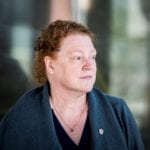 Professor Dame Sue Black is Pro-Vice Chancellor for engagement at Lancaster University. She is a world-renowned anatomist and forensic anthropologist who was awarded an following her leadership of war crimes investigations in Kosovo in 2001 and a DBE in 2016 for her services to science and education.
She is a cross bench life peer taking the title of Baroness Black of Strome. She is the President and a Fellow of the Royal Anthropological Institute, a fellow of the Royal Society of Edinburgh, the British Academy, the Royal Society of Biology and the Royal College of Physicians (Edinburgh).
She is the lifetime Professor of Anatomy for the Royal Scottish Academy and a recipient of the Fletcher of Saltoun award for her contribution to Scottish culture, the Jephcott gold medal for scientific advancement, the Lucy Mair medal for humanitarian assistance and the Anatomical Society gold medal for her distinguished contribution to the subject of anatomy. She also holds two highest police commendations for her forensic casework.
She has a very strong media and public engagement profile holding six awards in this area including an Outstanding Woman of Scotland award and the RSE (Royal Society of Edinburgh) Inspirational Award. She is passionate about the importance of 'place' and leads on the Eden Project North innovation for Lancaster and Morecambe.
Business in the Communty's place programme
Business in the Community's (BITC) Place Programme is about bringing everyone together in a place to act collaboratively. To act on long-term goals, based on a common agreement of the challenges, opportunities and solutions and drawing on the strengths of everyone in that community, whether they are a business, a community organisation or from the public sector.
Our mission
To facilitate meaningful connections between businesses, communities, and local councils to reset economic ambitions and collaborate on new, innovative solutions that will deliver long-term, transformative impact.