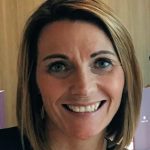 Rachel McVeigh is the Director of Finance at Anchor, England's largest not-for-profit provider of housing and care for people in later life. Anchor serves more than 65,000 residents in 54,000 homes across almost 1,700 locations. Its residential care services employ the majority of the 9,000-strong workforce, providing services to residents at over 120 care homes.
As Director of Finance, Rachel leads the finance function, ensuring that the financial health and stability of the organisation remains in line to meet its strategic objectives, oversees the accounting operation, and provides financial information on which to make decisions and meet regulatory obligations. Rachel joined Anchor in 2005 and is proud to work for an organisation knowing that every penny of the surplus made is reinvested into the services it provides for customers and colleagues to ensure people have homes where they love living in later life. She started her career as an auditor before taking on roles across various sectors including manufacturing and financial services for organisations including Dearnleys Limited and HBOS plc.
Rachel has chosen to join the Yorkshire & Humber regional leadership board as she is passionate about making a difference; it offers the perfect opportunity to collaborate with other businesses to drive positive change across a community facing some difficult challenges. When Rachel is not out walking her dog you will find her at the gym, clocking up the miles for her next charity walk, fell challenge, or mud run!