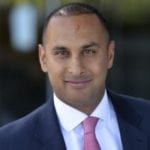 As Vice President/General Manager of Enterprise Rent-A-Car for the South East of England, Sak Gill is responsible for the growth and success of more than 150 rental locations. Sak has been with the company for nearly 21 years and has played a pivotal role in driving the business forward and enhancing customer experience across the UK and Ireland.
Soon after he graduated with a Bachelor of Arts in accounting from the University of Central Lancashire, he began his career as a Management Trainee at a rental branch in Stoke-on-Trent. In 2008, he was promoted to Group Rental Manager of Central London, and three years later he took on the role of Group Rental Manager of the West Midlands.
In 2015, Sak was promoted to Assistant Vice President of Rental and helped the UK and Ireland teams achieve record profit and their highest-ever customer service ranking. In 2017, Sak was promoted to the role of Vice President/General Manager, where he was responsible for business growth in north-east England. In 2021 he was promoted to Enterprise Europe's flagship South East group as VP/General Manager overseeing multiple business lines and being responsible for every aspect of its operation.
As a passionate advocate of diversity in business, Sak supports diversity and inclusion events across the UK. He is a proud role model for many ethnic minorities starting their Enterprise journey in the same way he did – on the company's management training programme. Sak is part of Enterprise's national Diversity Committee for the UK and Ireland as well as locally in the South East group .