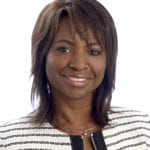 Albertha is a partner in PwC's Deals business and the UK leader for the Financial Services Valuations business. She is passionate about helping financial institutions and private equity investors to understand the value impact of their investment decisions, whether it's doing a deal, restructuring a business or dealing with hard to value assets. Her clients often describe her as one of their team, trusted, authentic and uncompromising on quality.
Albertha champions diversity and inclusion and is a member of PwC's Talent and Diversity Council, working with PwC executive board members and people leaders across the business to formulate PwC's firm-wide diversity and inclusion strategy. She is a member of PwC's transaction services leadership team where she leads on culture, talent and diversity working directly with a network of champions to embed culture change and inclusion in the day-to-day working of the business.
Albertha is a sponsoring partner for PwC's Multicultural Business Network, where she supports a number of black, Asian and minority ethnic empowerment initiatives and graduate mentoring programmes. Albertha was voted 2017 Financial Services Leader of the year by BBBA and was recognised in the FT EMpower Top 100 ethnic minority leaders list for 2017 and 2018.
About Business in the Community's Race Leadership Team
Each area of work Business in the Community (BITC) undertakes is led by a group of senior executives who provide strategic guidance and support us in achieving our objectives.
The purpose of BITC's Race Equality Leadership Team is to support employers to help break down the barriers that prevent the progression of ethnic minorities in their workplaces and show how an inclusive organisation better serves its customers, clients and communities.
Find out more about BITC's work on race equality.