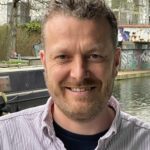 Charles O'Neill joined the Business in the Community (BITC) Executive team as Finance Director in January 2017, having joined the charity in 2006. He has responsibility for both Finance and IT.
Over the last 15 years Charlie has worked in a number of roles in the not-for-profit sector, gaining experience of mergers, bidding, and accounting and is always looking to improve both the effectiveness and efficiency of systems and processes to manage charity resources in the best way.
Prior to joining BITC, Charlie worked as a management accountant in the property industry. He is a qualified accountant with CIMA and has a joint Maths and Economics Degree from the University of Hull.