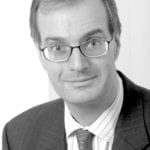 Richard is a senior partner of Linklaters. He is a mergers and acquisitions lawyer and advises major corporates and professional services organisations.
He has also held various leadership and management positions within Linklaters, including being Global Head of Client Sectors from 2003 to 2010, latterly as a member of the firm's Executive Committee. In that role, he developed an interest in corporate responsibility and similar issues.
He led the development of the firm's approach to client and matter acceptance and was closely involved in its pioneering work in defining and monitoring market place responsibility in the professional services sector. Richard has spent his entire career with Linklaters, having joined the firm after law school in 1980 and becoming a partner in 1989.
He was secretary to the UK Takeover Panel between 1998 and 1990 (on secondment from Linklaters). He has been a director of the London City Mission since 1998 and has worked with the Relationships Foundation in connection with its consideration of relational issues in business.
About Business in the Community's Global Goals Leadership Team
Each area of work Business in the Community (BITC) undertakes is led by a group of senior executives who provide strategic guidance and support us in achieving our objectives.
The purpose of BITC's Global Goals Leadership Team is to accelerate business progress towards being purpose-driven and deliver on the Global Goals also known as the United Nations Sustainable Development Goals (SDGs).
Find out more about BITC's work on the Global Goals.