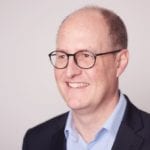 David Taylor joined Costain in 2009 and was appointed to the Executive Board in January 2015. He has held a number of senior leadership roles within the business and is currently responsible for the commercial, supply chain and procurement functions. David is also executive sponsor for business improvement as well as the delivery of operational excellence across the Group's portfolio of complex delivery projects.
David has recently been appointed as the Board sponsor for wellbeing and is passionate about the subject. He ran a group-wide leadership conference in 2018 on the topic of personal energy management which he considers to be an important part of enabling people to work at their best.
Prior to joining Costain, David acquired more than 25 years' experience with Taylor Woodrow holding the position of commercial director for UK operations.
He is a Fellow of the Institute of Directors and a Fellow of the Royal Institution of Chartered Surveyors.
David is married with two children, is a lifelong fan of West Ham United FC, and enjoys playing golf and drumming in his spare time.
About Business in the Community's Wellbeing Leadership Team
Each area of work Business in the Community (BITC) undertakes is led by a group of senior executives who provide strategic guidance and support us in achieving our objectives.
The purpose of BITC's Wellbeing Leadership Team is to build a movement that is committed to positioning health and wellbeing as strategic boardroom issues with a particular focus on mental health; driving collective action through evidence-based, practical solutions.
Find out more about BITC's work on wellbeing.