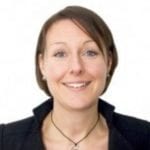 Debbie Hitchen is a Director at Anthesis with a strong track record in project management, business development and consultancy. She is recognised for her ability to build and manage multi-stakeholder teams and her capability to deliver complex and politically sensitive projects.
Debbie has an extensive understanding of the drivers and challenges of sustainable waste management having worked for four years in a local authority, four years at a leading producer responsibility compliance organisation and over a decade working with public, private- and third-sector organisations at London Remade and LRS.
Debbie has managed projects in manufacturing, retail, waste management and the public sector, delivering waste prevention activities, increasing reuse, improving waste collections and operations, driving behaviour change and initiating product stewardship programs. She has delivered projects which focus on specific materials, such as textiles, waste electrical and electronic equipment recycling and packaging; as well as projects which have a communications-based or behaviour change methodology. She is equally comfortable managing research, strategy, operational change management and stakeholder engagement projects.
Debbie is a qualified facilitator and is well known for her stakeholder engagement capabilities and her chairing of meetings.
About Business in the Community's Circular Economy Taskforce
Each area of work Business in the Community (BITC) undertakes is led by a group of senior executives who provide strategic guidance and support us in achieving our objectives.
BITC's Circular Economy Taskforce brings together a group of senior executives committed to delivering a high impact programme to bring the circular economy to life.
The Taskforce supports BITC's Environment Leadership Team, who are helping business drive innovation that turns the threats of the climate emergency into opportunity for people and nature.
Find out more about BITC's work on the environment.