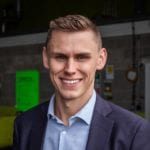 Elliot Harrison-Holt is the Managing Director for Recycling Lives Environmental Services, a national waste management business based in the North West of England.
Elliot has worked at Recycling Lives for six years, in which time the business has transitioned from a £28m regional metal recycling business to a £200m nationwide total waste management business. His focus is to drive sustainable growth through helping Recycling Lives' partners to become more environmentally and socially conscious.
Recycling Lives employs 400 people in the North West, with sites in Lancashire, Greater Manchester, Cumbria and Merseyside. The Recycling Lives Charity also has a strong presence in the North West, operating six HMP Academies across the region as well as a food redistribution centre and homeless residency.
Elliot has been involved with Business in the Community for a number of years.
About Business in the Community's Circular Economy Taskforce
Each area of work Business in the Community (BITC) undertakes is led by a group of senior executives who provide strategic guidance and support us in achieving our objectives.
BITC's Circular Economy Taskforce brings together a group of senior executives committed to delivering a high impact programme to bring the circular economy to life.
The Taskforce supports BITC's Environment Leadership Team, who are helping business drive innovation that turns the threats of the climate emergency into opportunity for people and nature.
Find out more about BITC's work on the environment.