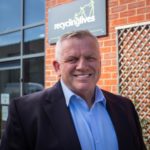 Gerry Marshall, CEO of Recycling Lives Group, joined the organisation two years ago and is responsible for leading the company through the current period of growth it is experiencing, whilst retaining the essence of the company – that fundamentally, it is about people and commitment to environmental innovation as well as strong commercial offering.
Gerry is an entrepreneurial, astute, and influential CEO with vast experience in driving business transformations.
About BITC's Circular Economy Taskforce
Each area of work BITC undertakes is led by a group of senior executives who provide strategic guidance and support us in achieving our objectives.
BITC's Circular Economy Taskforce brings together a group of senior executives committed to delivering a high impact programme to bring the circular economy to life.
The Taskforce supports BITC's Environment Leadership Team, who are helping business drive innovation that turns the threats of the climate emergency into opportunity for people and nature.
Find out more about BITC's work on the environment.