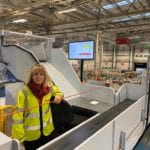 Jane joined Royal Mail in August 2020 as the Operations Director responsible for the North of the UK's Field Operations and leads a 62,000 workforce, responsible for collections, processing and the final mile delivery. Accountable for £2.2bn across England, Scotland, Wales and Northern Ireland.
In July 2016 Jane was appointed Capital Delivery Director at Severn Trent Water. Leading a £3bn major infrastructure capital works programme for waste and treated water and energy harvesting.
Prior to this Jane was Chief Engineer at Network Rail for two and a half years. She chaired the Industry Standards Coordination Committee. In 2011 Jane was appointed as the Engineering Director for London North Western Route with responsibility for 200+ engineering specialists; over 550 stations and 4,500 miles of railway infrastructure on the West Coast Main Line.
Jane left school at 16 as an apprentice and graduated with a first-class honours in Electrical and Electronic Engineering from Coventry University, followed by an MPhil at Birmingham University and a post graduate placement at Cambridge University. She is a Fellow of the IET.
In 2015 she was appointed a Trustee to the Scout Association. In 2019 she was appointed Board Member of the Port of Dover.
In May 2016 Jane was nominated into the Top 20 inspirational women in rail, in July 2016 was included in the Daily Telegraph's Top 50 women in Engineering and in 2017 was in the Financial Times and Cranwell's 100 women to watch.
Jane is passionate about supporting people to realise their potential, bringing diversity and balance across all layers of the organisation, which is why she joined the Business in the Community (BITC) Gender Leadership Team.
About Business in the Community's Gender Equality Leadership Team
Each area of work Business in the Community (BITC) undertakes is led by a group of senior executives who provide strategic guidance and support us in achieving our objectives.
The purpose of BITC's Gender Equality Leadership Team is to help ensure that women can achieve their full potential at work.
Find out more about BITC's work on gender.