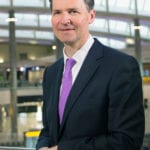 John Holland-Kaye became Chief Executive Officer of Heathrow Airport Holdings Ltd in July 2014. His previous roles at Heathrow include delivering the new Terminal 2, which opened successfully in June 2014, growing commercial income and improving passenger experience. Heathrow is now rated by passengers as the best airport in Western Europe and one of the top ten airports worldwide.
John's focus as CEO is on making Heathrow a great place to work, transforming passenger experience and building strong relationships with local communities.
Prior to joining Heathrow, John worked in housebuilding in the United Kingdom and the US, with Taylor Wimpey, and in brewing and leisure retail in the UK with Bass plc. His early experience was as a strategy consultant advising leisure and FMCG companies in the UK, US, Australia and the Philippines.
About Business in the Community's Employment and Skills Leadership Team
Each area of work Business in the Community (BITC) undertakes is led by a group of senior executives who provide strategic guidance and support us in achieving our objectives.
The purpose of Business in the Community's Employment and Skills Leadership Team is to create inclusive employment where everyone, regardless of their background or experience, has access to good quality jobs and the skills they need to thrive in work.
Find out more about BITC's work on employment.
LEARN MORE
Business in the Community is creating a skilled and inclusive workforce for today and tomorrow