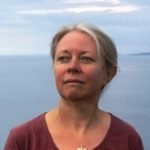 Liz Parkes leads the Environment Agency's thinking on climate change. She works closely with a range of Government departments on both preventing and responding to the climate emergency and brings a focus on how we put people at the heart of that thinking.  
Liz combines extensive regulatory experience with the ability to think creatively and strategically about the future and to engage others in that journey. Liz was previously Head of Waste and Resources at the Environment Agency and prior to that she worked in local government and for the Tidy Britain Group.
Liz is also Chair of the Chartered Institution of Wastes Management and was recently honoured with an MBE in recognition of her services to environmental protection and climate change.  
Liz lives and works in Bristol where the Environment Agency's headquarters are based.  
About Business in the Community's Climate Action Leadership Team
Each area of work Business in the Community (BITC) undertakes is led by a group of senior executives who provide strategic guidance and support us in achieving our objectives.
The purpose of BITC's Climate Action Leadership Team is to help business drive innovation that turns the threats of the climate emergency into opportunity for people and nature.
Find out more about BITC's work on the environment.