Climate Action
HOW BUSINESS IN THE COMMUNITY IS SUPPORTING ORGANISATIONS TO TAKE CLIMATE ACTION
Innovating to sustain and repair our planet
Every single business in the UK must take action to avert the climate crisis. Business in the Community's (BITC) network of organisations is working with us to take climate action.
What we do is important, but how we do it is equally critical. We must make sure the transition to a resilient, net-zero UK is fair and just, enabling people and nature to thrive.
By joining the hundreds of businesses in the Prince's Responsible Business Network, you can accelerate progress, maximise business opportunities and enable the communities you serve to thrive.
Climate action: the time is now
Seven Steps for Climate Action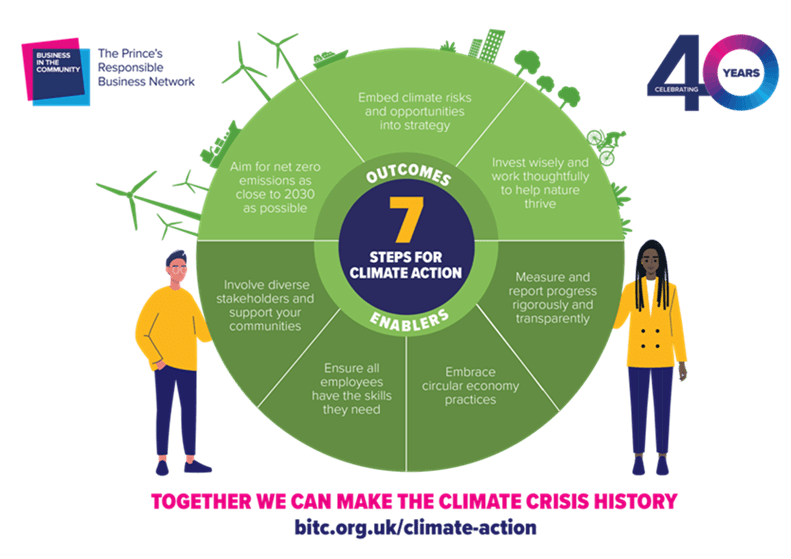 Ensure your business model is climate-proof and contributes to a future where people can thrive.
build climate resilience

reduce carbon emissions
bring net-zero targets closer to 2030
Key facts
£1.1 trillion of the costs of climate impacts to society could be avoided if UK businesses achieve net zero by 2030 rather than 2050.1
A quarter of people in the UK would take a paycut of £8,000 to work for an organisation that is tackling the climate crisis.2
The UK's net-zero transition could create 1.7 million jobs this decade.3
COP26 and beyond
COP26, the 26th United Nations (UN) Climate Change Conference of the Parties, took place in Glasgow from 31 October to 12 November 2021. It was the first summit to review progress against the Paris agreement, a significant milestone in the UK's push towards achieving its target of net-zero carbon by 2050 and a unique opportunity to campaign on climate issues.
View BITC resources designed to help you take climate action.
UK-wide climate action
BITC's national and regional leadership boards bring together business leaders, focusing on collaborative action to achieve net-zero carbon and climate resilience across the UK. They work together and with other stakeholders to identify opportunities to:
inspire businesses of all sizes to accelerate their efforts towards a climate resilient, net zero economy that enables people and nature to thrive
identify and unlock opportunities to engage and support employees to act at home, in the workplace and in communities
include diverse voices in developing and implementing plans and helping ensure the transition is fair by bolstering community resilience and wellbeing through nature, creating opportunities for people to access new jobs and ensuring those least able to afford it do not bear the greatest cost.
Challenge 2030
Our Challenge 2030 campaign aims to make the climate crisis history in the next decade by calling on businesses to increase:
the scale of ambition in climate action plans, using Taskforce on Climate-related Financial Disclosures (TCFD) thinking to embed risks and opportunities into business as usual.
the speed with which they will achieve net zero carbon, as close to 2030 as possible and aligned with the UN's Race to Zero if they can.
their scope of influence, developing and implementing an inclusive strategy in collaboration with diverse stakeholders.
Next steps
Take part in the Responsible Business Tracker, available for free to BITC members. It enables participants to assess their starting point and measure progress.
We offer bespoke advisory support to help our members deliver ambitious climate action plans. Speak to your Relationship Manager or contact our Advisory Service Team.
Climate action: the time is now