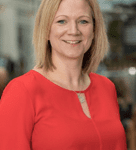 Lynn has worked across geographies, businesses and led parts of the human resources (HR) function during her 20+ years with GSK. This has included leading the Reward Centre of Excellence and the Asia Pacific Region based in Singapore. She is currently the SVP HR for the Research and Development organisation at GSK where she is accountable for leading the Talent, Culture & People Agenda.
She believes HR plays a critical role in achieving GSK's goal to be the most innovative, best performing and trusted healthcare company.
She is passionate about how HR can deliver value to the business and is excited about the role digital technology can play in enabling it to anticipate customers' needs, deliver a consumer grade experience and become a modern employer. As a member of the global gender diversity council at GSK, Lynn is committed to driving gender equality in the workplace both inside and outside GSK.
Lynn joined the Business in the Community Gender Leadership Team in September 2019.
Lynn enjoys spending quality time with family and friends, open-water swimming and travelling, ideally where the sun is shining.
About Business in the Community's Gender Equality Leadership Team
Each area of work Business in the Community (BITC) undertakes is led by a group of senior executives who provide strategic guidance and support us in achieving our objectives.
The purpose of BITC's Gender Equality Leadership Team is to help ensure that women can achieve their full potential at work.
Find out more about BITC's work on gender.