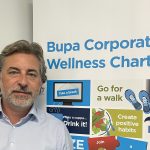 Will Shaw has more than 20 years of experience working in the UK Corporate Health & Wellbeing space. Joining Bupa in 2018, he holds P&L accountability for Bupa's Corporate Private Medical segments in the UK Insurance market. Prior to Bupa, Will worked for Cigna's UK domestic business for 17 years. 
Passionate about helping businesses to create working environments that enable employees to thrive, Will is a valued member of the Business in the Community (BITC) Wellbeing Leadership team. Through his deep understanding of the people challenges employers are currently facing, he helps organisations build the infrastructure that brings the very best out of workforces.   
Firmly believing and actively promoting the virtues of positive work/life balance, Will highly prizes his time away from work. When away from the office, you'll most likely find him spending time with his family, sailing around the Solent and enjoying the countryside with his dog. 
About Business in the Community's Wellbeing Leadership Team
Each area of work Business in the Community (BITC) undertakes is led by a group of senior executives who provide strategic guidance and support us in achieving our objectives.
The purpose of BITC's Wellbeing Leadership Team is to build a movement that is committed to positioning health and wellbeing as strategic boardroom issues with a particular focus on mental health; driving collective action through evidence-based, practical solutions.
Find out more about BITC's work on wellbeing.