The Wellbeing Workwell Model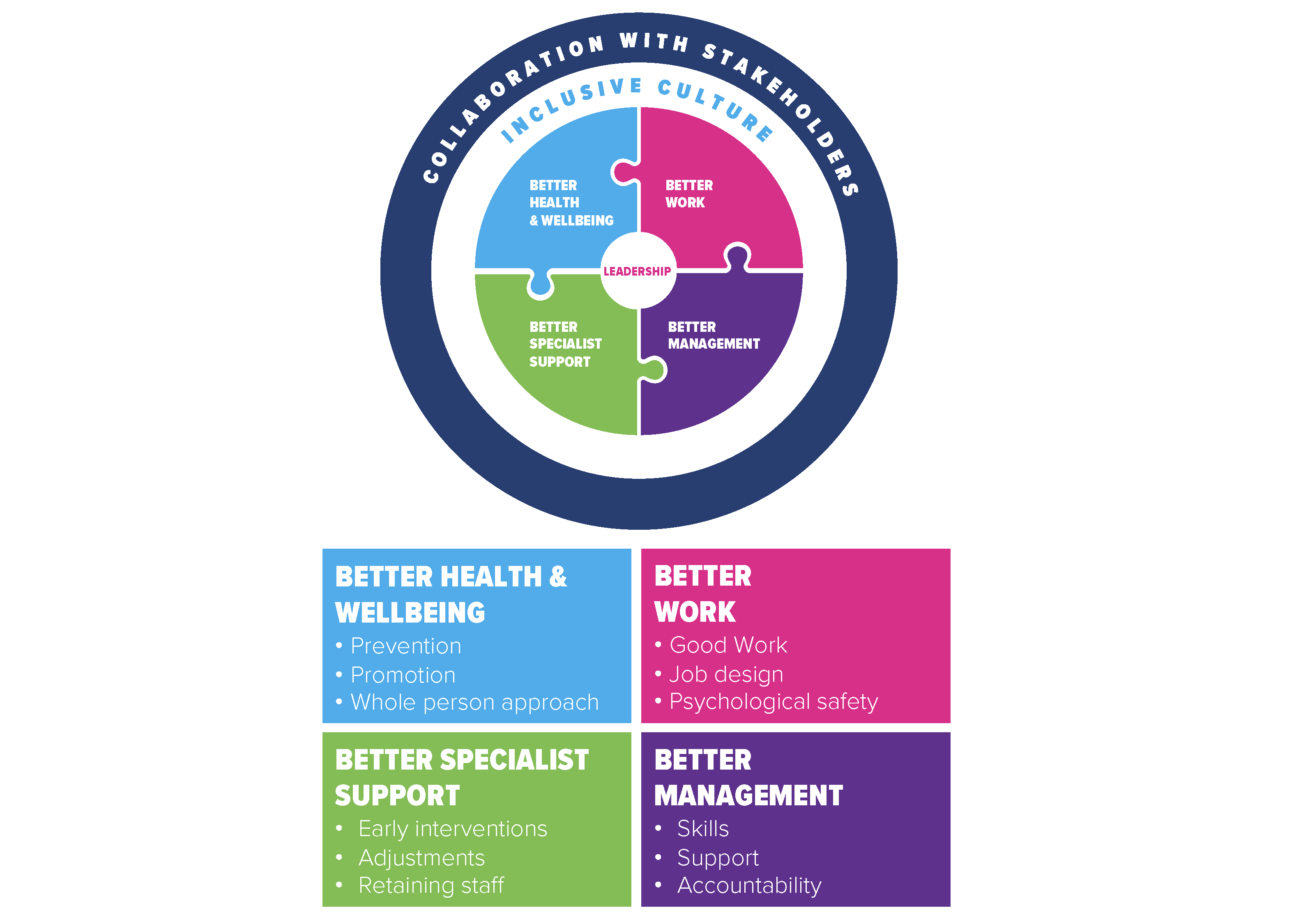 A FRAMEWORK FOR EMBEDDING HEALTH AND WELLBEING INTO ORGANISATIONAL CULTURE
Health and wellbeing are key components of Business in the Community's Responsible Business Map. In the context of responsible business, the aim of the model is to help businesses create environments where individuals and organisations can be at their best by taking a preventative, whole-person, whole-organisation approach to health and wellbeing.
It is evidence based, widely endorsed and positions employee health and wellbeing as strategic boardroom issues linked to business objectives.
The Workwell Model explained
Leadership sits at the heart of the model. Taking a whole organisation approach requires responsible leadership where the strategy is owned and championed by the board. This results in both collective ownership and a wellbeing strategy that is aligned to core business objectives. Our four-pronged approach is designed to create environments where employees can make accessible, well-informed healthy choices; challenging employers to think about the core components needed to build a strategy:
Better health and wellbeing: Be proactive and preventative about employee wellbeing, enabling and encouraging employees to take responsibility for their own health and wellbeing. Wellbeing includes physical, mental, financial and social health and wellbeing.
Better work: Create good work and improved job quality, designed to enhance personal health and wellbeing and mitigate workplace stress factors.
Better specialist support: Ensure resources and mechanisms are in place to support both early intervention and long-term wellbeing challenges, including workplace modifications and active rehabilitation for a phased return to work.
Better management: Develop line managers' capabilities and provide training and resources so they are empowered to support the health and wellbeing of their direct reports.
Inclusive culture and collaboration with stakeholders wraps the model, as they act as enablers to make a wellbeing strategy work. 

Contact Business in the Community for expert advice on how to create an inclusive culture and multiply impact through stakeholders.