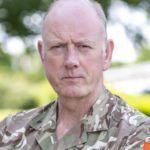 Christopher Coles spent 34 years as an Army Officer and completed his 'regular' service in March 2021 leading the delivery of people services globally. Away from his more recent immersion in military HR, his army roots are in tanks and armour.
His service took him, like most of his generation, to Cyprus, Bosnia, Kosovo, Iraq and Afghanistan, and he was based for most of his career in Germany. He had the great good fortune to command at several levels in the army including during operational service in Kosovo and Iraq.
He now serves as the lead for diversity and inclusion for the British Army, an appointment he assumed in June 2021.
He is delighted to join the Leadership Team both to learn from others' collective experience and wisdom and to push towards the benefits which true inclusion brings to any organisation. He believes with conviction that respect for others is a pretty good place to start.
Christopher is married with two grown-up children and spends his spare time fishing and being walked by his army veteran dog, Rocket. He has also been involved in helping to run a number of charities.
About Business in the Community's Race Leadership Team
Each area of work Business in the Community (BITC) undertakes is led by a group of senior executives who provide strategic guidance and support us in achieving our objectives.
The purpose of BITC's Race Equality Leadership Team is to support employers to help break down the barriers that prevent the progression of ethnic minorities in their workplaces and show how an inclusive organisation better serves its customers, clients and communities.
Find out more about BITC's work on race equality.