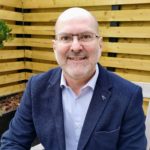 Paul Crewe joined Anthesis Group in January 2018 as Executive Board Director and Chief Sustainability Officer. Anthesis is the largest group of dedicated sustainability experts in the world: a team of 1000+ consultants, operating in 40 countries, to serve more than 2,000 clients. 
Paul previously worked at Sainsbury's-Argos where he led sustainability, energy, engineering, environment plus facilities management. His strategic and operational experience spans the built environment incorporating both embodied and operational carbon through design and selection of construction and engineering solutions. At a corporate level, circular economy, waste and recycling, energy management, water management, measuring and reducing food waste, setting energy and carbon reduction targets, building resilience through sustainable supply chains and strengthening corporate reputation through the embracing of sustainability and tackling the challenges of climate change.
Paul was instrumental in delivering a significant number of the highest returning investments in Sainsbury's 150- year-old history through key sustainability technology programmes including, energy and engineering. Paul has led major alternative investment strategies through funding streams sitting outside of Sainsbury's capital investment program. Paul led Europe's largest multi-roof array of Photo Voltaic Panels, the development of commercial scale deep bore ground source heat pump technologies, fast frequency demand response systems, sustainability behaviour change programs to drive out carbon, waste and water within Sainsbury operations and its supplier base.
Paul is a member of the Environmental and Sustainability Advisory Panel for The Household of TRH The Prince of Wales & The Duchess of Cornwall, and is a Fellow of the Royal Society of Arts.
About Business in the Community's Climate Action Leadership Team
Each area of work Business in the Community (BITC) undertakes is led by a group of senior executives who provide strategic guidance and support us in achieving our objectives.
The purpose of BITC's Climate Action Leadership Team is to help business drive innovation that turns the threats of the climate emergency into opportunity for people and nature.
Find out more about BITC's work on the environment.