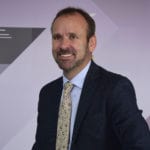 Peter Duff is Chairperson of Shoosmiths LLP, a leading UK law firm with 13 locations across the UK. Before being elected to that role in 2015, Peter was Head of the firm's Commercial Division. Prior to that, he was Head of the Employment and Pensions Department.
This diverse experience allows Peter to lead the firm in realising its strategic vision, improve its interactions with clients, staff and communities; as well as overseeing quality and compliance standards. Alongside CEO Simon Boss, Peter leads on the commitment to diversity & inclusion and the firm's sustainability pledges which include the aim to be net carbon neutral by 2025.
It's Peter's drive, empathy and understanding of people and culture that make him ideally suited to the role and these qualities also underpin his support for Business in the Community (BITC) which also align with Shoosmiths' values.
Peter hopes to explain how Shoosmiths addresses these issues and helps the firm's clients in their journey towards sustainability. He is also keen to expand the conversation about how businesses can put climate change and sustainability at the heart of business strategy and learn from others, too.
Peter's commitment to community is also illustrated by his role as a school governor of Bleasby Primary School and as a Councillor for Caythorpe Parish Council, both of which he has undertaken for several years and reflect his passion for securing the future for the next generation, by tackling the challenges of climate change in particular.
About Business in the Community's Climate Action Leadership Team
Each area of work Business in the Community (BITC) undertakes is led by a group of senior executives who provide strategic guidance and support us in achieving our objectives.
The purpose of Business in the Community's Climate Action Leadership Team is to help business drive innovation that turns the threats of the climate emergency into opportunity for people and nature.
Find out more about BITC's work on the environment.