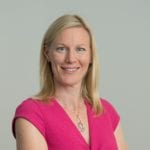 Catherine Hall is a commercial leader and shipping professional who is committed to attracting and developing talented people into an inclusive business environment. She has worked within shipping and trading businesses for Shell and BP, across oil, gas and chemicals markets. She is a strong advocate for achieving gender balance in those industries and is motivated by creating an environment in which all people feel seen and heard.
Catherine has held General Manager (GM) positions for Shell in Trading Operations, Shipping and Maritime and Shell Chemicals. She was GM for Global Operations Commercial Services, within Shell Trading. She leads an organisation of around 700 people, based in 15 countries, who work to ensure safe, compliant and efficient operations, to meet the needs of their Crude, Oil Products and Energy customers. Throughout her career, Catherine has worked on employee engagement, creating an inclusive culture and leadership development.
Prior to Shell, Catherine worked at BP for 15 years. Her work has given her experience in Europe, US and Asia; she was based in Singapore from 2008 to 2017.
Catherine is from the UK and studied Modern History at Oxford University. She and her family enjoy many sports and seeking out new adventures.
About Business in the Community's Gender Equality Leadership Team
Each area of work Business in the Community (BITC) undertakes is led by a group of senior executives who provide strategic guidance and support us in achieving our objectives.
The purpose of BITC's Gender Equality Leadership Team is to help ensure that women can achieve their full potential at work.
Find out more about BITC's work on gender.