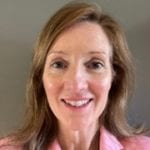 Liz Gray guides EY's European senior leaders to embrace the 'experienced economy' and engages with other leading accounting and legal firms to influence change for older workers. Liz has over 20 years' experience working in professional services from Australia, Russia, Ethiopia to the UK. As a chartered accountant and experienced consultant, she collaborates internationally on her movement to prioritise EY's investment in older workers and their value to society and organisations as alumni.
Liz has been championing older workers over the last decade and developed a market-leading transition framework from executive career, recognised by executive search firms and industry peers, and has contributed to a Saïd Business School research paper on executive career transition for older workers in professional services. She believes in the business and broader societal value of multi-generational teams and shares her passion in her work with Longevity Leaders and Business in the Community (BITC) Age Taskforce.
About Business in the Community's Age Taskforce
Each area of work Business in the Community (BITC) undertakes is led by a group of senior executives who provide strategic guidance and support us in achieving our objectives.
BITC's Age Taskforce brings together a group of chief executive officers (CEOs) and other senior executives committed to creating workplaces where age does not limit an employee's or jobseeker's success.
Find out more about Business in the Community's work on age.
LEARN MORE
Business in the Community is creating a skilled and inclusive workforce for today and tomorrow