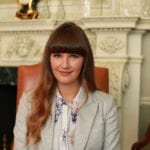 Amy Stanbridge is the General Counsel and Company Secretary at Henry Boot PLC, based in Sheffield. Having obtained her qualifications at the Universities of Nottingham and Sheffield, Amy qualified as a solicitor in 2006 and as a Chartered Secretary in 2019. She is an experienced lawyer with a demonstrated history of working in-house in the public sector and construction industry. With a broad range of expertise across contract and commercial law and practice, construction matters, corporate governance and compliance matters, she has worked at Henry Boot PLC since 2014.
Amy's work in corporate governance and compliance has increasingly been focusing on areas relevant to responsible business, such as environmental, social and governance matters and areas relating to diversity and inclusion. She is a passionate advocate of boards leading the way in promoting responsible and ethical business practices and as such is keen to bring this approach to Business in the Community's (BITC) Yorkshire and Humber Leadership Board.
In her spare time Amy enjoys hiking, eating ice cream, drinking gin, and generally enjoying the fabulous city of Sheffield and its surrounding countryside. Now that she is grown up enough to have dogs of her own she also enjoys taking them to the seaside and being covered in Labrador drool every time she eats said ice cream.