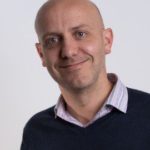 Andrew Cooper is Head of Business Development and Fundraising for Sovereign Housing Association and joined Sovereign in 2020.
Andrew is passionate about communities and leads on delivering new community projects. He also leads on partnerships for Sovereign across the south of England and their work around social value and money and digital support.
He has significant experience in housing, local government and community investment. Andrew is also a member of the Chartered Institute of Housing. His previous employment includes Clarion Housing Group, Birmingham City Council and Cannock Chase Council and as a Teacher of History.
Andrew is married and has two children. In his spare time he loves sport, reading and travelling and seeing anything historical. One of his favourite life experiences was when he spent a year as a volunteer teacher in a village in Tanzania, East Africa.
He is looking forward to bringing his passion for collaboration and communities to the South West Leadership Board. In addition, to see how we can work together to make a bigger impact in communities in South West England.