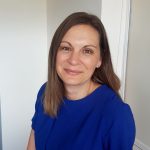 Anne-Marie heads up the East Midlands Banking teams across five offices in Derby, Nottingham, Lincoln, Leicester, and Northampton at NatWest Group. She has been with NatWest for 24 years in roles across the whole of The Midlands. Over that time, she has specialised in Real Estate and led the Midlands Tech strategy and has led teams in Leicester, Northampton, and The West Midlands.
Anne-Marie is passionate about NatWest's purpose to champion potential, helping people, families, and businesses to thrive. Accordingly, a core focus for her and her team is to positively and proactively support their customers, colleagues, communities and wider stakeholders across the East Midlands.
She is delighted to become a Business in the Community (BITC) Board member following a move back to the East Midlands for the Regional Director role and is keen to explore how she can positively contribute to the East Midlands community in collaboration with other like-minded businesses, individuals, and organisations. She has continued to sit on external boards across the East Midlands during her recent time spent working in the West Midlands market.
Anne-Marie studied Law and Psychology at De Montfort University and has a diploma in Banking and has recently completed a University of Edinburgh Sustainability Programme.