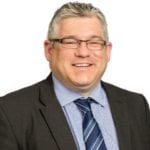 Chris Maguire has been the National Trading Centre Manager at AXA UK for the past eight years, working with insurance brokers to find insurance solutions for commercial businesses across the UK.
He has worked for AXA for 25 years in a range of roles from trainee actuary to Internal Audit Manager and Head of Financial Operations. He is also the site leader for AXA's office in Bolton where about 900 colleagues are based.
AXA is a global company but with strong ties to the North West region over many decades. Today there are sizeable offices based in Bolton, Morecambe and Manchester encompassing careers including underwriting, claims handling, IT, finance and human resources. AXA has a global purpose to act for human progress by protecting what matters and we want to make the business a real pillar of society.
Chris has lived and worked in the North West throughout his life and has a pride and passion for what can be achieved by people in the region. He has a keen interest in people and career development and will use his experience to support the goals of Business in the Community.