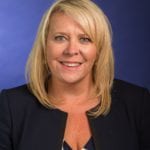 Christine Hewson leads KPMG's business across the North of England, working with the talented partners and employees who deliver professional services across this region for our many clients. She is a chartered accountant with over 30 years' experience in taxation, based in Leeds and has specialised in retail for many years. Christine prides herself on giving proactive and commercial advice.

Previously, she has enjoyed leading KPMG's tax practice across Northern England and playing an active role on KPMG's UK Board. Her passion is helping people develop and she have a track record of maximising people's potential. As well as appraising and coaching a number of KPMG's partner team across the UK she also mentors a diverse group of individuals from newly qualified to director within the firm and senior external leaders.

Christine's a working mum with an amazing family and participates in the wider community, for example leading a Business in the Community (BITC) Business Class partnership between KPMG and Wigan's Bedford High School, having previously sat on the Northern England leadership team for BITC. She is also proud to be part of the Northern Power Women, a movement to accelerate gender diversity and a non-executive director for SharpFutures, a social enterprise that supports diverse young people into employment in the creative digital and tech sectors.