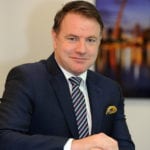 Daniel Glynn is Vice President/Managing Director of Enterprise Flex-E-Rent. He is responsible for growing Enterprise's commercial vehicle rental operations in the UK.
Danny joined Enterprise in May 2002 as an Accounting Co-ordinator at the company's northwest England group headquarters in Warrington. In 2005, he was promoted to Financial Controller of the East Midlands/South Yorkshire group.
In February 2010, Danny was tasked with establishing Enterprise Flex-E-Rent, the company's commercial vehicle rental division and relocated to the company's European head office in Egham. Despite being a new entrant into a competitive marketplace, Enterprise Flex-E-Rent grew rapidly under Danny's stewardship and, in August 2011, he was promoted to Assistant Vice President Enterprise Flex-E-Rent and in 2014 Vice President/Managing Director of the business.
During his career Danny has played a pivotal role in two major acquisition of commercial vehicle specialist businesses, Burnt Tree in 2014 and SHB Vehicle Hire in 2019. These have enabled Enterprise Flex-E-Rent to expand its offering and they are now one of the UK's largest providers of commercial rental vehicles to companies and public sector organisations.
Danny sits on the BVRLA's (the UK trade body for companies engaged in vehicle rental, leasing and fleet management) Commercial Vehicle Committee and is an ardent supporter of maintaining compliance and integrity in the industry. He is also passionate about promoting diversity, opportunity and equality in the workplace. Danny has also served on the board of MSDUK, the country's leading non-profit membership organisation driving inclusive procurement.
Danny holds a Bachelor of Science Degree in Business Management from Providence College, Rhode Island, USA, where he studied after being awarded a football scholarship.
He lives in Cheshire with his wife and two young children and family dogs.