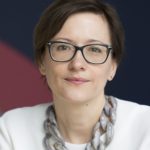 Eleanor Bradley is Managing Director at Registry & Public Benefit.
Eleanor was interim Chief Executive Officer at Nominet UK, a profit for purpose company operating at the heart of the UK internet. Nominet runs the .UK domain name registry part of the UK's critical national infrastructure relied upon by millions of business and individuals every day. This experience in running and protecting one of the largest interest registries has lead Nominet to use its expertise to develop protective DNS (Domain Name System) solutions used by the UK government and governments internationally.
Eleanor believes passionately in the power of technology as an enabler of inclusion and opportunity and oversees programmes focused on ensuring young people, business and the third sector achieve the most from digital.
Working in a variety of operational roles over the past 20 years, always with a technology focus, Eleanor has headed up significant cost saving activities, the move of services online, strategy and governance reviews and the use of data and analytics to support better decision making.
In recognition of the enormous number of challenges that small businesses have faced due to COVID-19, Eleanor joined Business in the Community's (BITC) Small Business Taskforce as Co-Chair with the fundamental belief that if all sectors – public, private and not-for-profits – work together, we can support the recovery of small businesses, and in turn the recovery of communities quicker. As an action-orientated leader, Eleanor is keen to draw upon the skills and expertise across all of BITC's network and beyond to make a difference for all of society, but especially in those areas most impacted by COVID-19.