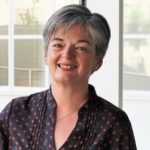 Jane Ashcroft CBE was CEO of Anchor, the largest provider of housing and care for older people in England from 2010 to July 2022, providing services to over 65,000 older people through a workforce of 10,000 colleagues across the country. Prior to Anchor she held senior corporate services in Bupa, and Bromford Housing Group. She has held non-executive roles in the Building Society and listed company sectors, and was a founder Trustee of The Silver Line, a 24 hour helpline for older people dedicated to eradicating loneliness.     
Jane has held a number of roles with representative bodies, as Chair of "Care England", Vice Chair of the National Housing Federation, and was a founder of Associated Retirement Community Operators, representing the growing market for retirement village provision in the UK, of which she is currently Vice Chair.
Jane is a Fellow of the Chartered Governance Institute and a Member of the Chartered Institute of Personnel and Development. She was awarded a CBE for services to older people for the 2013 New Year Honours.