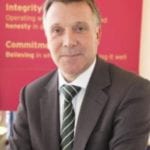 Kieran Harding is Managing Director, Business in the Community Northern Ireland. Kieran joined Business in the Community in 1990 and became Northern Ireland Managing Director in 2011. He leads a team of outstanding individuals in championing the responsible business agenda in Northern Ireland.
Kieran has been appointed Head of Nations at Business in the Community and a member of the Executive Team. Prior to joining Business in the Community Kieran was involved in supporting the development of small business in Northern Ireland , having previously been employed as Manager of Farset Enterprise Park in West Belfast, and a former Director of East Belfast Enterprise. Kieran is a Board member for the Northern Ireland Sports Council and a Director at Spirit of 2012 (a Legacy of the London games charity), as well as a member of NI Advisory Board of Marie Curie.
He is a former Irish League footballer and has been a Coach/Manager in the Irish Football League for over 20 years. Kieran is First team Coach/Assistant Manager with Glentoran FC. In addition he is a Senior Coach Education Tutor with the Irish Football Association.
Kieran holds a BA and an MSc in Business Improvement from Queen's University, Belfast and University of Ulster respectively. He is married with two grown-up children