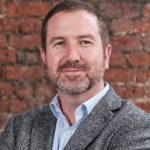 Lee is a Director at HBD's Manchester office. His area of expertise is in urban regeneration with a UK-wide remit across the business. With over 20 years within the property industry, Lee has extensive experience in the design and delivery of speculative and end-user driven development schemes for the private and public sector. Part of Lee's current focus includes forward thinking design, and to ensure sustainability and health and wellbeing are embedded within HBD's projects.
In addition to his property role, for the last 14 years Lee has been involved with Business in the Community (BITC) as a Job Coach. As well as coaching candidates he has also spoken at events about his experiences coaching a wide range of candidates. This is something that Lee is passionate about and describes the experience as being challenging and rewarding in equal measure.
Lee was keen to join the North West board of BITC to continue to raise awareness and help with the challenges many people face through no fault of their own.
Outside of work, Lee enjoys getting outdoors camping or walking with his family whenever possible. Lee is a keen cyclist, and with the Peak District on his doorstep he often gets to experience the views (and hills!) this part of the world has to offer.