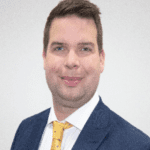 Leighton Cardwell is Director of Operations at infrastructure solutions provider Jacobs, responsible for the leadership of its city region strategy and its 400 staff in Leeds.
Leighton studied geography at Oxford University, prior to undertaking his MSc in transport planning and engineering at the University of Leeds, where his love of the region grew from.
Leighton leads on complex, multi-disciplinary transport and infrastructure scheme development, design and delivery in the region and across northern England. He is a chartered transport planning professional, an expert witness, a STEM ambassador, and is part of Leeds City Council's inclusive growth extended delivery partnership.
As a result, he has a focus on ensuring community involvement, benefit, and more inclusive social outcomes from the decision making and delivery of local infrastructure; This is among the reasons why Leighton has chosen to join the Yorkshire and Humber Leadership Board.
Outside of work, Leighton is a keen swimmer, with open water swimming events and competitions having taken Leighton to swim in cities, rivers and channels all around the world. Leighton has a young son who already seems to share his passion for swimming and adventure.