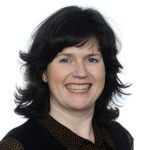 Linda Jones is a partner with international law firm Pinsent Masons LLP. She is based in the Birmingham office of Pinsent Masons where she has spent all of her legal career. Linda leads the firm's global Employment and Reward practice and she has almost 30 years' experience of advising UK and global employers on a wide range of employment matters.
Linda has a long standing interest in diversity and inclusion. In 2013 she initiated Sky, the firm's programme to achieve a better gender balance in our partnership and senior leadership team, which has led to the firm increasing its proportion of female partners from 17 per cent to 30 per cent, and she now chairs the firm's Global Inclusion Strategy Group.
Linda studied English Literature and American Studies at Nottingham University and worked in HR before becoming a lawyer.
She is married with one son, now grown up, and enjoys cooking, making cocktails and travelling.