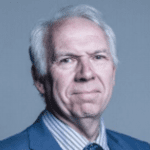 Lord Bassam began his career working as a legal adviser In Deptford's Law Centre, moving on to a number of senior research roles in London local government. He served as an assistant secretary at the Association of Metropolitan Authorities, before consulting in the private sector for KPMG and Capita.
Lord Bassam became involved in local politics in the early 1980s and quickly rose to become Leader of Brighton, and then Brighton and Hove City Council. In November 1997, he was created a life peer and introduced into the House of Lords. Bassam was promoted to the frontbenches as Parliamentary Under-Secretary of State for the Home Office in 1999. In 2001, he was appointed a Lord-in-waiting where he served until 2009. During the same period, he served at various times as Government spokesman for several other departments, including Communities and Local Government, Culture Media and Sport, and Transport. He was Chief Whip for 10 years.

In 2018/19 he chaired and authored a report as Chair of the Lords Select Committee on The Future of Seaside Towns, which recommended the expansion of town deals and argued for improved connectivity and levelling up. In 2020, Lord Bassam was appointed as Co-Director of Business in the Community's Place Programme.
Business in the Communty's place programme
Business in the Community's (BITC) Place Programme is about bringing everyone together in a place to act collaboratively. To act on long-term goals, based on a common agreement of the challenges, opportunities and solutions and drawing on the strengths of everyone in that community, whether they are a business, a community organisation or from the public sector.
Our mission
To facilitate meaningful connections between businesses, communities, and local councils to reset economic ambitions and collaborate on new, innovative solutions that will deliver long-term, transformative impact.