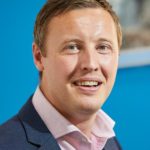 Matt is Communities Director at Sovereign Housing Association, leading a multi-disciplinary team across the south of England. The directorate focuses on community action, digital and financial inclusion, Employment and training, social impact, and Environmental, Social and Governance (ESG). 
He is an experienced housing and community investment professional. Matt has worked across the country in various roles covering regeneration, housing management and community investment. He has developed asset-based approaches to put power back into the hands of communities and bring together sector wide partnerships to deliver greater impact.
Matt sits on The Centre for Excellence in Community Investment's (CECI) core group, and is a key advocate for community investment in the housing sector.
An accredited executive coach, Matt is passionate about the power of developing colleagues, customers and communities through asking better questions. He brings this skillset to support BITC's South East Leadership Board strategy to tackle social issues such as the poverty premium, levelling up, sustainability and the housing crisis.
In his spare time Matt enjoys walks with his family, squash, football and playing the guitar!