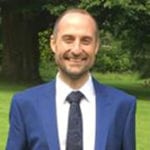 Mike Smit is the Head of Fujitsu's Enterprise and Cybersecurity business in the UK. He leads a team of security specialists providing consulting and managed security services to public- and private-sector organisations.
Mike started his career after leaving high school and joined Fujitsu in 2005 after spending 13 years in financial services. Mike has held senior leadership positions in client-facing and business-transformation roles, most noticeably heading the HM Revenue and Customs Aspire live services organisation responsible for underpinning the systems that allow the collection of tax and distribution of benefits to UK citizens.
Mike joined the Small Business Taskforce as he is passionate about the innovation and employment opportunities that small- and medium-sized enterprises bring to the technology sector. He is keen to practically support all small businesses in their recovery from COVID-19 to nurture them to their full potential and ensure continued provision of products and services for communities.