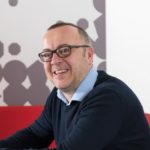 Patrick has over 30 years experience in the field of accreditation, assessment design and educational technology. Qualified as a Graphic Designer, he began his career designing educational resources with government agencies MESU/NCET and BECTa to running of post-sales technology support departments with Apple Computer. His career has always addressed the fusion of education, skills development and assessment technologies.
For the last 20 years this work has focussed on the specific field of learning and assessment research and development linked to government policy and national accreditation programmes. This has spanned work with global awarding bodies, such as the RSA Examinations Board, OCR Examinations and Cambridge Assessment Group.
He now leads on Strategic Partnerships, Stakeholder Engagement and Policy work for the City & Guilds Group. The role considers the growing impact of Economic and Skills Policy and new technologies on the education and training industry. It also identifies initiatives to enable City & Guilds to develop and extend their charitable purpose and impact to ensure that learners, employers and the economy can realise their full productivity potential.
Outside of work Patrick still enjoys keeping his hand in at painting and drawing but is never happier than when spending time with his wife, sons, family and friends. He's looking forward to a return to some normality with that side of life.