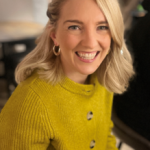 Sarah Black-Smith is passionate about helping UK Manufacturers become more productive and has led the Motion Control business in Siemens Digital Industries since June 2022.  Prior to this, Sarah led the Factory Operations at the Siemens Digital Industries factory in Congleton since December 2018, having previously been Head of Manufacturing. Sarah has worked for Siemens for 21 years and prior to working in Congleton, held several operational positions within the Siemens Energy business in Lincoln. 
Sarah graduated from Loughborough University in 2004 with a BEng (Hons) in Manufacturing Engineering and Management. Sarah completed an MSc in Operations Excellence from Cranfield University in 2016 and completed her Global MBA at Alliance Manchester Business School in 2023.
Sarah loves working with people. She is passionate about manufacturing in the UK as she believes we have amazing people in the UK who are innovative and highly skilled. Sarah believes that diversity is key to unlocking our potential in engineering and manufacturing industries and believes that we need greater diversity in our businesses and engineering courses to drive new ideas and ways of doing things. Sarah was born in 1982 in Dundee, Scotland and lives in Chester.