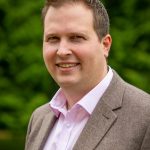 As Head of Sales for Enterprise Mobility, Steve Wood is responsible for the leadership, management, and strategic direction of a large sales force responsible for corporate, public sector and replacement mobility. The team represent all Enterprise Mobility brands, including Enterprise Rent-A-Car, Enterprise Flex-E-Rent, Enterprise Car Club, National Car Rental, and Exotic Car Collection by Enterprise.
Graduating from the University of Hull in 2005, Steve's career started with Enterprise on the company's management training programme. During his 18 years with the company, he has undertaken many different operational and sales leadership roles, culminating in his current role based at the Enterprise Mobility regional HQ in Leeds.  As a key part of his role, Steve has always taken every opportunity to join and lead Enterprise Mobility's community driven initiatives, from mentoring to supporting local charities. He is currently Chair of the regional Enterprise Founding Values Committee, which is responsible for all philanthropic and community activity undertaken within the region and ensures the local teams play an active role in supporting local communities and causes. Steve was delighted with the invitation to join the Business in the Community (BITC) Yorkshire and Humber board as he strongly believes that large organisations should mobilise their collective strength to deliver positive impacts within society.
In his spare time Steve loves to travel, exploring new destinations at every opportunity. Steve and his wife Sarah, have two young children; Isabella and Sophia who share their family home with Max the very energetic cockapoo!