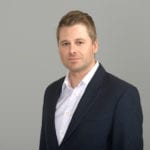 Tom Mullan has been Chief Finance Officer at Gresham Tech since March 2018, a high-growth LSE listed financial software and services company that that specialises in providing real-time solutions for data integrity and control, banking integration, payments and cash management.
Prior to joining Gresham, Tom spent two years as CFO at Fadata, a European-based global insuretech business; eight years as EMEA Finance and Operations Director at Guidewire Software, a Silicon Valley headquartered global insuretech business; and seven years at EY in their audit and assurance function.
Tom is passionate about growing businesses that have a positive impact on their communities. Largely based upon his own experience and challenges faced, he has a particular interest in finding opportunities for businesses that operate on a global level, that are not thought of as small but only have a limited number of people in any single location, to have a meaningful impact on their communities.
Tom grew up and started his working life in Southampton before transferring to London. He is a proud advocate of apprenticeship style schemes having joined EY without a degree at 18. He now lives in Wandsworth Town with his wife.