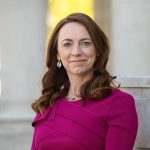 A Cambridge graduate, Vicky Davies started her career as a management consultant at Accenture in London. After gaining her MBA at the renowned INSEAD business school in France, Vicky joined Ulster Bank in 2005.
She moved on to become part of Danske Bank's senior management team in 2012, initially as Head of Business Development, then becoming Managing Director of Strategy & Corporate Development. Vicky joined the Board of Danske Bank UK in 2016 and was appointed Deputy CEO in 2019. She took over as Chief Executive in September 2021.
Vicky is also a Board member at the Northern Ireland Chamber of Commerce and Industry.