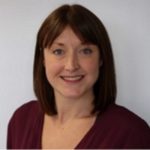 Vicky McNab is a Product Director at Experian and leads a business providing outsourced employment screening checks for customers recruiting in sectors such as Financial Services, Professional Services, Telecoms and Retail.
Vicky originally trained as a Chartered Accountant and worked in practice, specialising in mergers and acquisitions. She joined Experian in 2008 and has worked in both accountancy and a number of business leadership roles.
One of Vicky's career highlights was leading a social innovation project at Experian, called The Rental Exchange, which tackles financial exclusion by including rent payment data into credit files and into the calculation of credit scores. In so doing the Rental Exchange allows tenants to access a bigger and broader choice of affordable credit options.
Financial inclusion is close to Vicky's heart from her work at Experian and she is also passionate about employee engagement and wellbeing. Vicky is excited to be part of Business in the Community (BITC) where she can collaborate to drive positive change in the East Midlands.