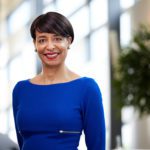 Camille Drummond is the Senior Vice President for Global Business Services at bp, an integrated energy business with operations globally. bp is an organisation of 70,000 people and is embarking on a journey to reimagine energy and realise net zero emissions by 2050.
Camille has led Global Business Services (GBS) since January 2018, overseeing 6,000 people, across three global and eight regional centres; providing finance, procurement, customer and HR services to bp's global businesses.
An accountant by training, Camille has been in the energy industry for over 30 years and has spent much of her career within finance, across multiple businesses. This includes 14 years within the integrated supply and trading business, before becoming the CFO of the European Gas and Power trading business. Prior to her current role, she was Head of Group Planning and Performance.
Camille is also the Executive sponsor for bp's business resource group PEN (Positively Ethnic Network) and previously chaired bp women's network in London. Camille has won a Black British Business award and has been named on key ethnicity influencer lists including Powerlist, Empower and BAME100.
Camille is passionate about providing opportunities to succeed for under-represented ethnicities in large corporations. She also wants to drive corporations to increase supplier diversity in their supply chains. This has a direct and significant impact on communities and creates structural generational wealth. Joining Business in the Community's (BITC) Race Equality Leadership Team provides a real opportunity to join together diverse businesses with the opportunity to partner with large corporations
Camille has an MBA from Henley Management College and is a qualified accountant.

About Business in the Community's Race Leadership Team
Each area of work Business in the Community (BITC) undertakes is led by a group of senior executives who provide strategic guidance and support us in achieving our objectives.
The purpose of BITC's Race Equality Leadership Team is to support employers to help break down the barriers that prevent the progression of ethnic minorities in their workplaces and show how an inclusive organisation better serves its customers, clients and communities.
Find out more about BITC's work on race equality.