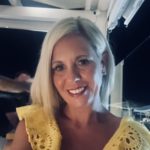 Caroline Howarth is the UK & Ireland Finance Director for Enterprise Rent-A-Car. She is mum to three children, Olivia (16), Zach (12) & Darcey (5).  
Caroline began her journey with Enterprise in 1998 in the Leeds region as a Trainee Accountant in it's Business Management team, which took her on the career path to Financial Controller. Caroline is a Fellow of the Association of Chartered Certified Accountants (ACCA) and qualified in 2003, when her career really started to take off.  
Caroline went on to become the Financial Controller in 2010 covering the South Coast Group. Two weeks after getting the promotion she went on maternity leave with her second child. Two years later she was promoted again to Senior Financial Controller. Which also meant merging two groups into one for the East Midlands/East Anglia region. In her role she was responsible for overseeing all the Finance Functions, but also responsible for the Risk Management Department, Vehicle Repair Department and Property, Development and Facilities.
In 2019 she was promoted again to oversee the largest group in Europe, the Southeast England Group. She had the same responsibilities but over a larger scale and a shared service to manage. Three years later she had another promotion as Finance Director for UK & Ireland.
Outside of work, it is family time for Caroline and she loves taking holidays and eating out with her family and friends. She enjoys running which she says helps to clears her mind and escape into her own little world ready for the new challenges ahead.
About BITC's Cost-of-Living Taskforce
Business in the Community's (BITC) Cost-of-Living Taskforce brings together a group of the most influential and passionate senior executives, committed to deliver the vision that the UK business community demonstrates a world-leading response to the cost-of-living crisis. Additionally, supporting those most disadvantaged and vulnerable in society, and using the crisis as a catalyst to make the UK fairer and greener together.
This taskforce of diverse leaders will shape the outputs for the campaign and innovate together to drive action across business at pace and scale.