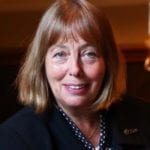 Dame Julia Cleverdon DCVO, CBE is a passionate and practical campaigner who has gained an international reputation for 'connecting the unconnected', inspiring individuals and organisations to work together for the common good in the most challenged communities.
During her tenure as Chief Executive of Business in the Community from 1991 to 2007, Julia worked closely with the President HRH The Prince of Wales in building a movement of 850 member companies. Julia later served as Special Adviser to The Prince's Charities and focused efforts on disadvantaged communities.
Julia chairs Transform – an alliance of Teach First, Police Now, Unlocked, Think Ahead and Frontline to collaborate on the many common issues facing public service leadership, and inspire a new generation to take up critical community impact professional roles.
Julia co-founded Step Up To Serve (#iwill), which aims to make meaningful social action a part of life for young people across the UK. As Chair of Teach First from 2007 to 2014, and now Vice Patron, Julia has pioneered efforts to address educational disadvantage. She serves on the National Citizen Service, Careers and Enterprise Company and Youth Futures Foundation boards, is Deputy Chair of the Fair Education Alliance, and Chair of the National Literacy Trust.
About Business in the Community's Employment and Skills Leadership Team
Each area of work Business in the Community (BITC) undertakes is led by a group of senior executives who provide strategic guidance and support us in achieving our objectives.
The purpose of Business in the Community's Employment and Skills Leadership Team is to help create a UK where everyone, regardless of their background or experience, can access the education, employment, and skills they need to thrive throughout their working lives.
Find out more about BITC's work on employment.
Business in the Communty's place programme
Business in the Community's (BITC) Place Programme is about bringing everyone together in a place to act collaboratively. To act on long-term goals, based on a common agreement of the challenges, opportunities and solutions and drawing on the strengths of everyone in that community, whether they are a business, a community organisation or from the public sector.
Our mission
To facilitate meaningful connections between businesses, communities, and local councils to reset economic ambitions and collaborate on new, innovative solutions that will deliver long-term, transformative impact.