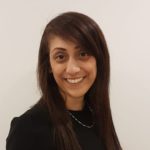 Karima Khandker has worked in the world of recruitment, training and apprenticeships for over 20 years. She has extensive experience in the aviation and construction sectors.
In the last 15 years, Karima has worked on Employability and Apprenticeship programmes that have enabled businesses to lead the way on employment and skills. She has a passion to deliver business benefits to allow everyone, regardless of background, employment and career development opportunities.
Karima leads the development of a Skills Strategy for Thames Water to ensure the business has a diverse and inclusive pipeline of skills required today and in the future. This agenda ensures benefits of growth are felt by all communities and colleagues across the business. She leads a team focused on driving change within the provision of education, employment and skills across all boroughs. They form strategic partnerships and take a collaborative approach with stakeholders including education, community, supply chain and skill providers. In January 2022, Karima's remit was extended to include resourcing, to create an opportunity to align skills and emerging talent agendas.
Karima has held a number of board roles such as Route Panel Member for the Institute for Apprenticeships and Technical Education. She was also a board member on the Aviation Industry Skills Board and City and Guilds Employer Board. More recently she has served as a non-executive director for Harrow College and Uxbridge College.