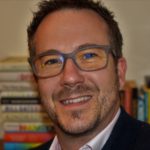 Matthew Higham was appointed Chief Digital Officer (CDO) at Costain in December 2021. His experience centres around leading digital business transformation and maximising the benefit of digital technology adoption across multiple industries, including infrastructure.
Before joining Costain Matthew was Chief Digital Officer & Sustainability lead for Microsoft UK. Prior to this Matthew worked across a range of markets including financial services, manufacturing, automotive, critical national infrastructure, travel, transport, local and national services.
His deep rooted passion for harnessing the power of technology to build a more sustainable future for generations to come, is the very reason why he is so excited to be joining Business in the Community's (BITC) Climate Action Leadership Team. Matthew believes that the opportunity for this team to forge unified action and execution for scaled impact across the businesses and industries in the UK is imperative to the safeguarding of our climate. Through this unified voice, we can foster new ways of working, drive impactful change and unite the economic forces to meet net zero and beyond.
About Business in the Community's Climate Action Leadership Team
Each area of work Business in the Community (BITC) undertakes is led by a group of senior executives who provide strategic guidance and support us in achieving our objectives.
The purpose of BITC's Climate Action Leadership Team is to help business drive innovation that turns the threats of the climate emergency into opportunity for people and nature.
Find out more about BITC's work on the environment.